The threats against President Trump's life have been greater than any other administration in history. Going after all the liberal golden calves has consequences.
Sometimes, though, the threats are accidental. But no less dangerous.
Trump has survived bomb threats, terrorists, unprecedented protestors, and historic coordinated internal revolts. But plane crashes are another thing entirely.
From Western Journalism:
For the second time this weekend, the Air Force scrambled fighter jets to respond to a violation of the restricted air space above President Donald Trump's Mar-a-Lago estate.
Trump was spending his third weekend in a row at the "Southern White House," when the incidents happened.
The air space near his home is off limits when the president is at his estate, as was the case when President Reagan and Bush traveled to their respective western White Houses, or when Barack Obama vacationed in Hawaii or Martha's Vineyard.
I guess aircraft flying over Florida aren't used to the fact that the president's second White House is nearby.
WJ continues: "an F-16 pilot was able to establish communication with the aircraft.
'The pilot was very compliant,' said Marsh, and left immediately.
The Sunday incident followed another on Friday evening, when the Air Force scrambled a pair of F-15's to intercept another aircraft, which was also not in communication with air traffic control."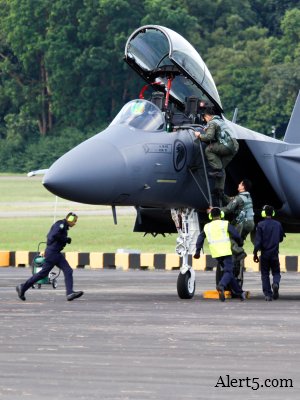 In both cases, the fighter jets had to break the sound barrier to reach the aircraft approaching Mar-a-Lago. Air Force pilots don't mess around.
The planes approaching Mar-a-Lago were not dangerous. This time.
But worries are growing about how to protect the president with the unprecedented hatred surrounding him, and the unconventional ways he governs the country.
Fact is, it's terribly easy for a plane to fake a misunderstanding, and veer into Florida for an accidental 'crash landing.'
Given the scope of the Air Force response, it's clear that this is a situation they've already thought long and hard about. It's worthwhile for us to think about it, too.
Incredible pics reveal how lucky Donald Trump's running mate Mike Pence was to survive skidding off runway at LaGuardia Airport
The level of attacks upon the president have ranged from the unconventional to the absurd. And yet all of them have been true.
No other president has faced such a coordinated effort from angry feminists, jobless liberals, and disloyal Americans as Trump has. And yet he's stood firm.
Still, a plane crash, or a terror attack, might wipe out a good part of Florida. Nothing is completely secure.
Watch the skies.
Source: Western Journalism
[playbuzz-item url="//www.playbuzz.com/caitbu10/are-you-meant-for-the-air-force"]