Inside most every liberal is a violent and angry child, ready to throw a tantrum when he – or she – doesn't get her way. And this one is about to get a cold, hard dose of reality.
You're probably familiar with quite a few liberal tantrums recently. There's all the marching, and the riots after the election. And the suppression of free speech every time a conservative speaker comes to a university.
But most of the time, the liberals win. It's too much trouble to fight back. Except this time – because when you threaten the president, there has to be an investigation.
Kathy Griffin's liberal anti-Trump tantrum is about to meet the adults.
TMZ reports:
Kathy Griffin may have been joking when she posed with what looked like the bloody head of Donald Trump, but the Secret Service isn't laughing.
Law enforcement sources tell us the Secret Service has launched an investigation into "the circumstances surrounding the photo shoot."
If you're not up to date here, there's not much more to tell. Kathy Griffin posted a picture of herself holding the severed head of the Commander in Chief.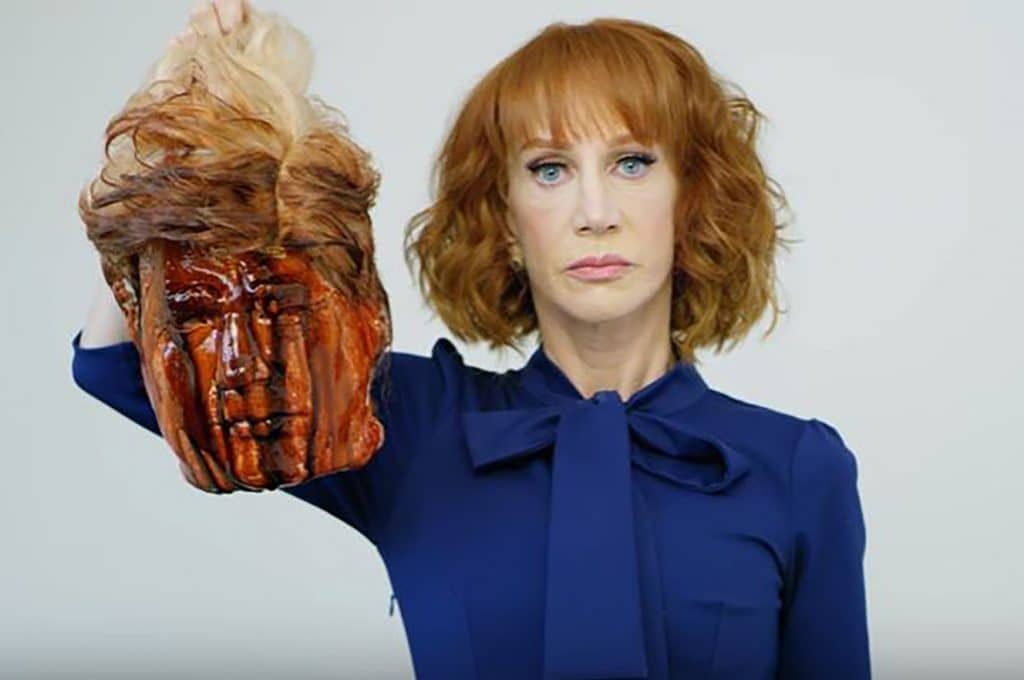 Apparently, liberals think patriotism means wishing the death of our elected officials. But the Secret Service does not.
TMZ first posted the pic, shot by famed photog Tyler Shields. We're told the Secret Service does not jump to conclusions that incendiary photos or writings are serious or in jest. They also will not automatically pass the photo off as art. They routinely investigate and that's exactly what they'll do in this case.
We're told agents will most likely attempt to interview her and Tyler.
Mind you, if there's no clear threat, the authorities will likely have to let Griffin go. You can't exactly arrest someone for being a whiny toddler, after all.
But there's at least one real-world consequence coming of this: lost money. Because even liberals are condemning Griffin now. And that means advertisers are leaving her in droves.
From the Conservative Tribune:
"We were shocked and disappointed to learn about the image Ms. Griffin shared today," announced Squatty Potty CEO Bobby Edwards. "In response, Squatty Potty has suspended its ad campaign featuring Ms. Griffin."
It was enough to make Griffin apologize…sort of. The Tribune rightfully points out that it wasn't much of an apology.
Probably because she's not really sorry.
No matter, though. When it comes to lost advertiser money, it doesn't matter if you're sorry or not. Reality doesn't care.
Source: Conservative Tribune