Obviously, relations with Russia are at historic lows.
But it's not just the left's constant attacks of Putin and his government. Real issues are straining U.S.-Russian relations around the world.
Recently those issues have compelled Russia to make big boasts against us. But it looks like our leaders aren't buying it.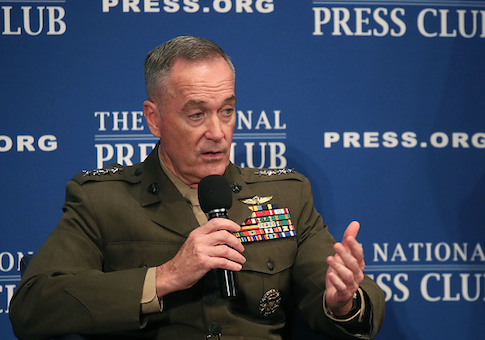 From Free Beacon:
The United States and Russia have maintained an open communication channel after the American military's downing of a Syrian warplane over the weekend, according to Gen. Joseph Dunford Jr., chairman of the Joint Chiefs of Staff.
Dunford said Washington will work militarily and diplomatically in the coming hours to "re-establish de-confliction" with Moscow.
The Russian Defense Ministry said earlier it would suspend cooperation with the United States and treat all "flying objects" operated by coalition forces west of the Euphrates River as "targets…"
The United States and Russia established the deconfliction line in Syria in 2015 to avoid accidental clashes between the two forces.
Russian military officials threatened to cutoff its hotline with the United States in response to an American Navy F-18 fighter jet shooting down a Syrian warplane on Sunday after the government jet dropped bombs near local forces backed by Washington.
The confrontation marked the first time the United States has downed a pro-government aircraft since the Syrian civil war began in 2011.
The Russian Defense Ministry called the attack an act of "military aggression" and pledged to halt cooperation with U.S. forces in response.
As with other nations we are not close allies with, we cannot completely trust the rhetoric coming from Russia. While we can and should have a good relationship with the superpower, their agenda in Syria is questionable.
It's clear they want to use the war as a means to gain power over the nation. They are working with dictator Assad, in the hopes of perhaps establishing a puppet regime, once the war ends.
U.S. involvement in the area threatens that goal, as we want to not only eliminate ISIS, but end Assad's rule.
But despite Russia's harsh words against us, they are not ready for all-out conflict. They need the U.S.'s resources and leadership, if they are ever to end the conflict in Syria.
Will the civil war spill over into a greater conflict? Is Russia working to end ISIS, or are they pursuing their own agenda? Only time will tell for sure.
Source: Free Beacon