The left tries to destroy Trump through their empty witch hunt. But what we are learning is that democrats were the ones breaking the law.
Obama was spying on the Trump campaign. Hillary Clinton tried to obstruct her investigation. And another close Obama ally illegally exposed the names of American citizens to the press.
But instead of getting what they deserve, these culprits are using technicalities to protect themselves.
From Breitbart:
The National Security Council cannot hand over records relating to former National Security Adviser Susan Rice's surveillance of Americans, because they have been moved to the Obama presidential library and may be sealed for as many as five years, conservative watchdog Judicial Watch announced Monday.
The NSC informed Judicial Watch in a letter dated May 23 that materials related to Rice's requests to know the identities of Americans swept up in surveillance of foreign targets, including any Trump campaign or transition officials, have been moved to the library…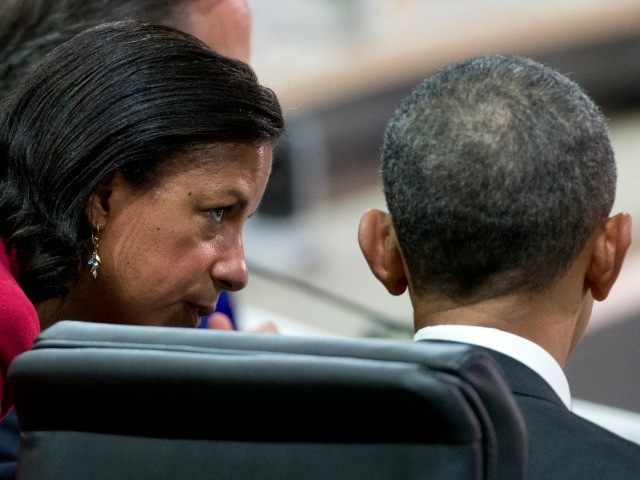 Judicial Watch President Tom Fitton said the group will seek to find out when the records were moved, and warned of legal actions. He said:
Prosecutors, Congress, and the public will want to know when the National Security Council shipped off the records about potential intelligence abuses by the Susan Rice and others in the Obama White House to the memory hole of the Obama Presidential Library.
We are considering our legal options but we hope that the Special Counsel and Congress also consider their options and get these records.
Leave it to the Obama administration to use one last loophole to protect itself. For eight years they had manipulated our legal system to push their agenda. Often, they broke the law and got away with it, because of secrecy and clever deception.
Only now are we learning the depths of Obama's White House's corruption. They violated the law to protect illegals, undermined the Constitution to welcome refugees, extorted money from companies to fund liberal groups, and violated the privacy of Americans to hurt political rivals.
Those are only a few of their crimes. Yet when we could have seen just how Rice broke the law on behalf of Obama, they used the loophole of moving those documents to a protected library. All in the hopes that, in five years' time, nobody will care.
Not likely. These things have a way of coming back on a person. We are no longer living in the era where corrupt, liberal politicians can protect one another. Don't be surprised if something comes out sooner, to expose Obama and Rice.
I'm counting on it.
Source: Breitbart
e
[playbuzz-item item="67e0cce6-5c63-40f7-8e9d-6a9ce0c2df10″ format="poll"]