The Muslim Brotherhood is yet another radical, Islamic terror network.
They support the destruction of Israel and jihad against the West. What's worse is that they have the support of many leaders in the Middle East and Muslim world.
But nobody thought that a respected and influential news network was actually aiding this dangerous organization. And it's widespread.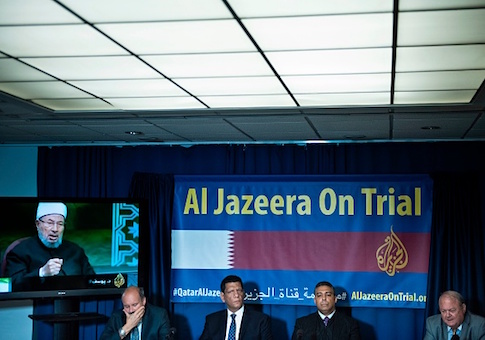 From Free Beacon:
Two former Al Jazeera employees are suing the news network for neglecting journalistic ethics during the 2013 Egyptian revolution and endangering the lives of journalists by sending them to Egypt without proper operational licenses.
Former Al Jazeera English bureau chief Mohamed Fahmy and Al Jazeera English cameraman Mohamed Fawzi were convicted in 2014 on charges of collaborating with the Muslim Brotherhood to spread the terrorist group's agenda via fabricated news stories in the Egyptian revolt.
Fahmy served 438 days in an Egyptian prison while Fawzi sought asylum in the United States…
[A]ccording to Fahmy, without his knowledge, Al Jazeera was actually working in collusion with the Muslim Brotherhood, which allowed the network to operate illegally in Egypt during the revolution.
In return, Al Jazeera supplied the terror group with cameras and equipment to spread its propaganda. Fahmy said this practice is widespread and must stop because it endangers employees who wished to cover the crisis as journalists rather than act as partisans for a terror network.
Al Jazeera didn't just help the Muslim Brotherhood back in 2013. It's clear from reports that they continue this toxic relationship with the terrorist network, working to spread fake news to help their agenda.
And we thought CNN was bad! Our news networks in the U.S. are irresponsible, unethical, and dishonest. Their fake news helps empower terrorists around the world. So, it comes as no surprise that one of their counterparts in the Middle East does the same, and more.
Al Jazeera's English language coverage is more moderate. They hide the fact that they openly support terrorism, as well as Sharia law. But thanks to this lawsuit, perhaps more people will discover just how dangerous this network is.
Source: Free Beacon
[playbuzz-item item="8e7fa19e-6c9f-46d1-9cf4-803791047893″ format="poll"]