With regard to Obama's wiretaps, and Trump's full knowledge of those wiretaps, there's only one thing to say: the proverbial sh*t is hitting the fan.
Which is to say, Congress has finally come around to an investigation. And they're in a big hurry, too.
[playbuzz-item url="//www.playbuzz.com/salonmedia/is-there-any-merit-to-president-trumps-wiretap-claims-about-obama"]
Two Congressmen have sent a letter to the White House demanding evidence of Obama's illegal wiretaps of Trump Tower.
And they've demanded it soon – today, in fact, no later than March 13th, because an investigation needs to start immediately.
And the kick in the pants for liberals? One of those two Congressmen is a liberal Democrat.
That's right, liberal America – even your own side is getting pretty pissed at Obama's illegal behavior.
Right Wing News reports:
The White House has been asked to provide wiretapping evidence by Monday, March 13, 2017. The request was made via letter sent from a conjoined effort between a republican and democrat.
House Intelligence Committee Chairman Devin Nunes and ranking member Adam Schiff sent the letter and would like evidence by Monday.
Today, mind you, might be too soon – giving a sitting president less than a weekend to put together all evidence of a wrongdoing isn't a realistic request.
An actual, bona fide wiretap from Obama would have mountains of evidence, complete with documents from all over the US intelligence map, and it would take weeks, if not months, to put that all together.
Still, the fact that a Republican and a Democrat can come together and push this investigation forward says wonders about the people who secretly support Trump in Congress.
And newsflash, liberals – those 'secret supporters' aren't all Republicans. Not by a longshot.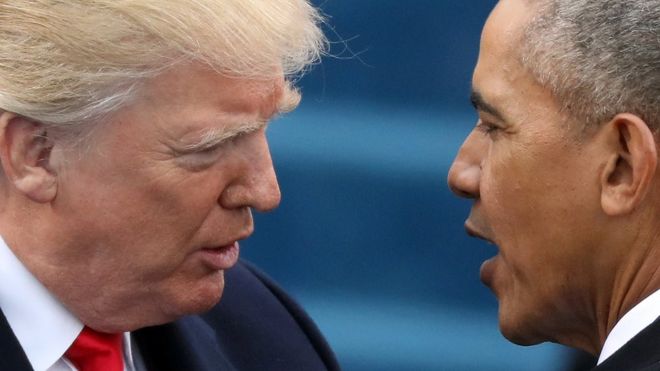 Trump hasn't said whether or not he's seen the letter.
And given the number of things on his plate – a new executive order on immigration, the new Establishment Republican health care bill, and fixing America's economy – it's unlikely that this would be his top priority.
After all, as sweet as exposing Obama would be, it's not going to bring America jobs. And it should probably be put on the back burner.
But it's good to know that certain Congressmen aren't willing to put the issue aside.
Press on, Schiff and Nunes. The evidence is there. Just keep demanding it.
Source: RightWingNews
[playbuzz-item url="//www.playbuzz.com/patriotjournal10/should-obama-be-investigated-for-sabotaging-donald-trump"]