If you've been paying attention the last few years, you know how the FBI generally catches terrorists – they hit them before they even strike.
Which means, in many cases, that they catch them before they even commit a serious, terror-related crime.
This is not necessarily a good thing – sometimes, to catch a real bomber, you have to see if he actually wants to bomb someone.
Which involves asking him to bomb someone, or telling him that he needs to bomb someone.
[playbuzz-item url="//www.playbuzz.com/abbyrose11/are-you-police-fbi-material"]
Or even, in some cases, by giving him the bomb parts and telling him to put them together.
(James Comey's hands are dirty with these tactics.)
So it's no surprise that the FBI, who couldn't even catch Hillary Clinton, couldn't catch an Islamic terrorist that they themselves created and molded.
Comey is at the heart of this, and his corruption is more clear here than it ever has been before.
The Intercept reports:
An undercover FBI agent encouraged a would-be terrorist to "Tear up Texas" shortly before he opened fire on a "Draw Muhammad" cartoon contest in Garland, Texas, last year raises new concerns about FBI counterterrorism efforts that were already under fire for manufacturing terrorism cases rather than halting them.
According to an affidavit, Elton Simpson had been corresponding with an undercover FBI agent.
And in a text message roughly a week before the attack, as they discussed [a Pamela Geller 'draw Mohammed'] cartoon contest, the agent had exhorted Simpson to "Tear up Texas."
The undercover FBI agent was in a car directly behind Elton Simpson and Nadir Soofi when they started shooting.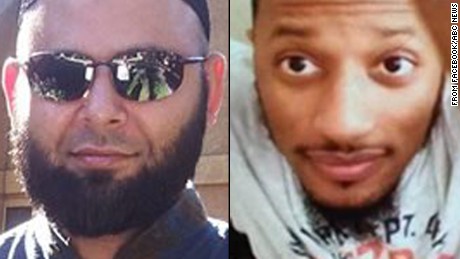 A few things are worth noting – Anderson Cooper is the journalist that exposed this, and he is as liberal as they come.
Which means, in a nutshell, that even liberal media is taking notice. Which is more than terrible news for James Comey.
Second, the FBI must think the American public is full of idiots if they're willing to lie so blatantly.
According to the FBI, an agent followed the suspect to the crime scene, but had absolutely no knowledge of the suspect and no knowledge of his plot. Which is, to say the least, more than a little stupid.
If you don't know a guy, and don't know he's going to be a terrorist, there's really no reason to follow him – through several cities, and counties, and states.
James Comey's FBI is revealing itself to be a corrupt basin of an ineptitude and lies. He needs to step down as soon as possible.
Source: RedState
[playbuzz-item url="//www.playbuzz.com/samlocklin10/could-you-be-an-fbi-agent"]