The fight to end illegal immigration in America is a tough one.
President Trump promised to end the terrible practice, to ensure the safety and security of all Americans.
But it looks like one of his top officials might not match his vision for the country. In fact, quite possibly the opposite.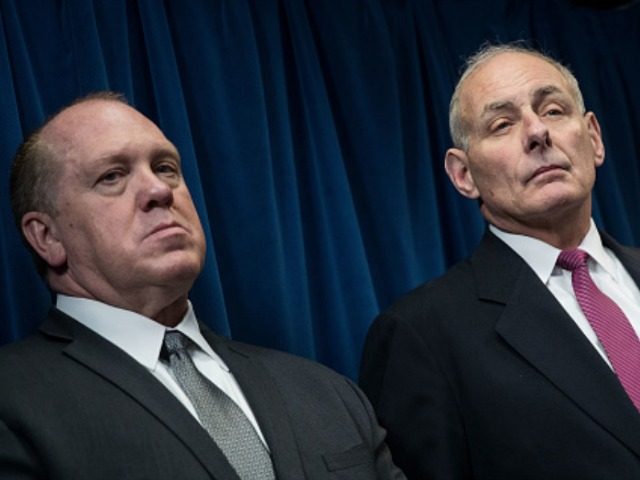 From Breitbart:
The acting director of U.S. Immigration and Customs Enforcement (ICE) under the Trump Administration is the same bureaucrat responsible for overseeing the release of violent criminal illegal aliens into U.S. communities under the Obama Administration.
The acting director, Thomas Homan, previously headed Obama's Enforcement and Removal Operations (ERO), a position where Homan helped direct the release of criminal illegal aliens. Homan received an award from President Obama for his work on immigration matters…
ICE Council President Chris Crane, also an ICE Officer, spoke with Breitbart Texas and painted a dismal picture of the politics playing out in how our nation's immigration laws are enforced.
"It is a disgrace that the man who oversaw Obama's effort to release criminal illegal aliens into our country is now the acting director of ICE," said Officer Crane.
"Someone under Trump has been allowed too much authority in choosing the worst possible Obama-holdover to lead the vital effort of enforcing our nation's immigration laws…"
Breitbart Texas contacted ICE for comment and an intense exchange followed — one that highlights the ICE officers' concerns about Acting Director Homan.
The ICE spokesperson implied that Homan was simply following Obama's orders and sent a transcript of Homan's words to the press from the White House roundtable event mentioned prior in this piece.
It's very easy to panic over such news. But we need to keep in mind that President Trump and Attorney General Jeff Sessions are calling the shots.
It very well could be that Homan was simply following the orders of Obama when he released those criminal aliens. After all, how can a government agent—who wants to keep his job—deny the president?
There is a good chance that Homan is going to follow the direction of the current administration. This is the same man who recently said that illegals should not feel comfortable in the United States. He's made a clear declaration that ICE is going to deport illegals, no matter what.
But recent controversy over Obama-era holdovers have people worried. Government officials, either loyal to Obama or anti-Trump, have caused problems by defying orders or leaking details. Could Homan be one of those?
It all remains to be seen. Should he fulfill Trump's plan to end illegal immigration, then we have no worries. But if the current trends change and illegal immigration resumes to surge, then we know who to blame.
Source: Breitbart