Recent years have seen shocking new clashes between people of color and their white neighbors. Thanks to the irresponsible rhetoric of Barack Obama, many Americans have been duped into believing white people and cops, are the root of all evil.
The fact remains that since the 1960's, America has taken great strides in ending discrimination. We have laws on the books that prevent segregation, the horrible act that prevented black people from interacting with white people.
So imagine the surprise of many people, when "Whites Only" stickers started to pop up on stores and windows across St. Louis.
Way back before the Civil Rights movement, there were states that allowed stores, restaurants, and other places to deny service to black people. "Whites Only" and "Colors Only" were common.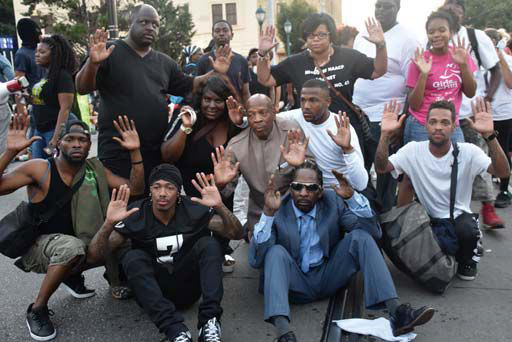 Today that is all history. Until certain stores started to display these stickers, all over the city. This, while protestors and activists were causing trouble, just over this sort of issue. Hmm… coincidence? Or was something foul afoot?
People quickly took to social media to express their outrage. How, in 2017, could a restaurant or store actually post such a racist sign? How can anyone—in violation of the law—deny people of color service?
Even local media showcased the stickers. It seemed like old fashion racism was back again. There was just one problem: the stickers were being posted to stores owned by minorities.
One was a restaurant by Qayum Mohammed, who served Afghani cuisine and had a non-discriminatory policy. When asked about the sticker, he was horrified to find it on his store. Clearly he did not place it there.
On closer inspection, people discovered a hashtag in the corner of the stickers. It was "#BLM." We all know what those letters stand for.
It came out that members of radical hate group, Black Lives Matter, were posting the stickers on random stores.
Their goal was clear, to incite further hate, rage, and violence against local businesses in St. Louis. Often when these protests occur, riots are soon to follow. Private businesses, homes, and property are destroyed. These stickers would have invited rioters to attack these stores. Almost like targets.
So why were they being posts on stores owned, not by white people, but minorities?
From Mad World News:
KMOV reports that not only were the supremacist stickers placed on businesses by BLM protesters but, in their endeavor to make white entrepreneurs appear racist, they ended up posting the signs on minority-owned and run businesses.
The BLM's stunt quickly backfired once minority business owners came forward to express how foolish the signs were, showcasing that St. Louis is not a racist hub for white supremacists but an example of America's diversity and equality.
Qayum Mohammed was one such minority member who discovered the sticker on his eatery, Sameem, which serves authentic Afghan cuisine and boasts a non-discriminatory hiring policy…
The BLM looked ignorant targeting workers from their own special interest groups or, at least, the groups they claim to support.
Other restaurant owners came forward to denounce the group for placing the offensive sign on their shops, which included The Grove, Urban Chestnut, Layla, and Taha's Twisted Tiki Bar, according to Blue Lives Matter.
Once again we learn that Black Lives Matter's reckless hatred and "activism" is only harming the very people they claim to help. It has nothing to do with protecting black lives, but turning minorities against cops and white people.
Now we see that BLM's antics are directly hurting business owners of color. Those stickers were so irresponsible. They could have invited angry mobs to break into those stores and attack their owners. Rioters could have killed innocent people, because Black Lives Matter lied.
Why are there people left supporting this group?
Source: Mad World News
[playbuzz-item item="f2ec17cd-ea4a-427c-a846-54e930721a5b" format="poll"]