The policies of the Obama administration will continue to resonate for some time.
That's true whether we're talking about foreign policy, healthcare, matters of national defense, immigration, or dozens of other areas.  
While it's true that American voters bear the brunt of that, the policies also have ramifications across the globe – including for some of our neighbors.
One of former President Barack Obama's pet policies, the Deferred Action for Childhood Arrivals (DACA) program, will be deferred no longer.
President Donald Trump and his administration are in the midst of cleaning it up, and there could be some ripple effects for our neighbors to the south.
The Daily Caller shares the details.
Mexico is preparing for roughly 620,000 so-called Mexican "Dreamers" to be deported.
A Thursday report from El Universal documented how Mexican Foreign Minister Luis Videgaray held a meeting Tuesday at the Mexican consulate in New York with a dozen Deferred Action for Childhood Arrivals (DACA) beneficiaries.
To recap, hundreds of thousands of lives will be disrupted, and two nation's will have to deal with the fallout from that – all because Obama insisted this would be the right way to do things.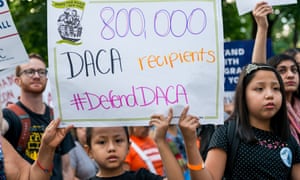 Videgaray said at a press conference that Mexican employers might not be able to easily confirm work references from deported illegal immigrants.
"The Mexican government can play a part here. We can verify and certify these references to make the incorporation of these young people easier," Videgaray said.
The DACA program protects nearly 800,000 illegal immigrants who arrived as minors from deportation and grants them work permits. President Trump announced that the program will end in March 2018 with beneficiaries having their status phased out.
We're not going to waste time trying to get to the bottom of Obama's reasoning for the decision, but we will take the time to note that cramming a policy down everyone's throat with nary a thought given to the consequences is not the sign of a great leader.
Yet, the mainstream media continues to pine away for the so-called glory days of the Obama years. The fact that the media industry has the audacity to even wonder why it's credibility is shot these days tells you about all you need to know.
In any event, DACA was another mess that was left behind for the Trump administration to clean up. It's going to happen – whether liberals like it or not – but the results are not going to be particularly pretty.  
Unfortunately, the same will apply to the other messes that eventually get cleaned up.
Source: Daily Caller
[playbuzz-item item="7ee0b4ae-496a-4704-84cd-359056484251″ format="poll"]