Our border patrol works hard to protect us each and every day. But they are up against criminals who are constantly trying to come up with new ways to smuggle in drugs and human beings.
Not a week goes by where we haven't heard about a new technique drug cartels and human smugglers are using to cross our borders undetected. From a stroller, to the trunk of the car, we've pretty much heard it all.
Well, this latest one, is pretty creative I must admit. But not creative enough that our guys didn't catch them.
[playbuzz-item url="//www.playbuzz.com/patriotjournal10/do-you-support-donald-trump-s-plan-to-immediately-deport-all-criminal-aliens"]
Breitbart reports:
The agents assigned to the Yuma Sector observed a Dodge pickup truck approach the Interstate 8 inland border checkpoint located east of Yuma, Arizona.
During a cursory check of the truck, a K9 agent alerted to the possible presence of drugs, according to information provided to Breitbart Texas by U.S. Customs and Border Protection (CBP) spokesman Justin Kallinger.
 The agents conducted a secondary inspection on the truck. The inspection led to the discovery of drugs hidden inside a spare tire, officials stated. Agents also found drugs hidden under the truck's seats.
The agents found 3 pounds of heroin, 2 pounds of tetrahydrocannabinol (THC), and 30 pounds of methamphetamine.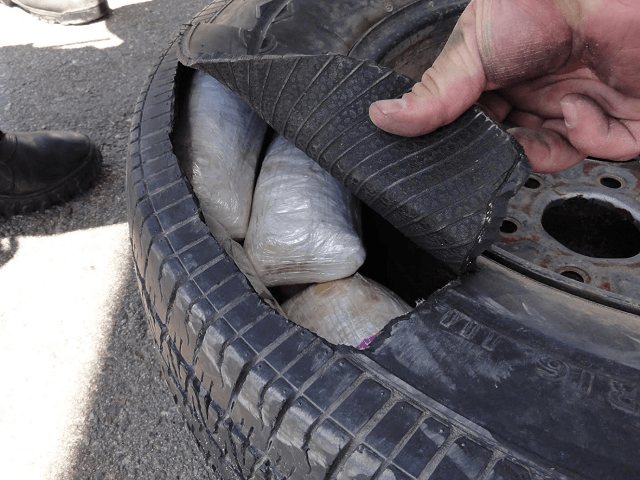 The only reason this guy even tried a stunt like this is because for the past eight years Obama gave pretty much anyone a free pass to enter our country. Even criminals.
He kept the border patrol and ICE from doing their jobs properly. Which gave criminals the balls to try anything in order to get into America with drugs and illegal contraband.
But criminals and illegals are going to have to start trying a little harder or take their drugs to another country, because the Trump era has begun.
Thank goodness we now have a president who will fight tooth and nail to keep criminals and drugs out of our country. And thank goodness we have great border patrol agents who work hard to keep us safe.
Source: Breitbart