The biggest sanctuary city in the US just tried a gutsy move.
As illegal immigration quickly becomes one of the president's defining battles, cities that defy federal laws all over the United States are slowly giving in, one by one, to Trump's orders. We've seen it before, and we'll see it again.
But some cities are resisting in more clever and creative ways. And Los Angeles is at the top of the list.
[playbuzz-item url="//www.playbuzz.com/elvinb10/our-nations-police-officers-need-more-support-do-you-agree"]
ABC News reports:
Los Angeles officials have requested that agents of the U.S. Immigration and Customs Enforcement immediately cease the practice of identifying themselves as "police."
In a letter, Mayor Eric Garcetti, city attorney Mike Feuer and Los Angeles City Council President Herb Wesson urged ICE agents to no longer refer to themselves as "police" while carrying out their duties in L.A.
The letter is in response to recent controversial pictures and videos showing ICE agents wearing vests that only read "POLICE." Videos show ICE agents identifying themselves as police officers as they try to gain entry into homes.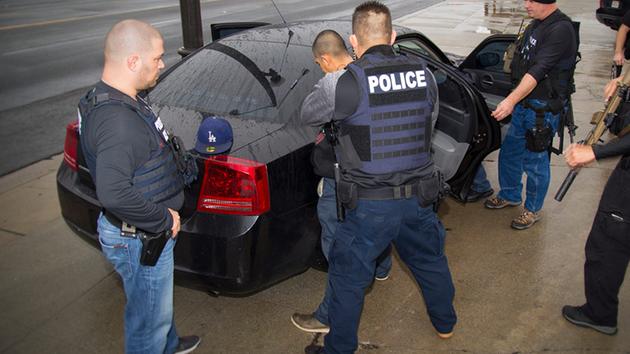 This is much bigger than it seems. Bear with me – the stated reason for this request is so that illegals can still feel comfortable reporting crimes to police.
It makes sense on the surface – if you fear being deported, you won't report a crime. If you don't report a crime, the city isn't safer.
But any quick look at law enforcement stats will tell you that the number of crimes reported by illegals is minimal at best. It just doesn't happen very often, if at all.
Independent Journal Review makes this clear: despite the worries of local officials in Los Angeles, there is no evidence as of now that the affected communities are confusing ICE agents for local police.
Besides, if we're talking about reporting 'crimes' to police, why not the crime of being here illegally in the first place?
LA's request is a much more sinister way of evading the law. Although, no official statement has been released yet from the White House, we bet our President will not stand for this!

And the simple fact of the matter is this: if ICE has to identify themselves before conducting a raid, there's simply no way that raid will be effective.
LA's request is little more than a way to undercut the fine work these men and women do for the country.
It's the sneakiest move for a sanctuary city yet. And President Trump must stop it!
Source: Independent Journal Review
[playbuzz-item url="//www.playbuzz.com/abbyrose11/are-you-police-fbi-material"]