President Trump is doing a great job rebuilding the country after eight years of Obama's destruction. Almost all of Obama's terrible decisions are on the chopping block.
Porous borders? Not anymore. Obamacare? Being replaced. Draining the swamp? Hire Steve Bannon instead. Check, check, check.
One more, too – Michelle Obama's school lunch program?
Gone. And the collected, joyous cries of children nationwide were heard in a jubilant squeal of glee. Rejoice!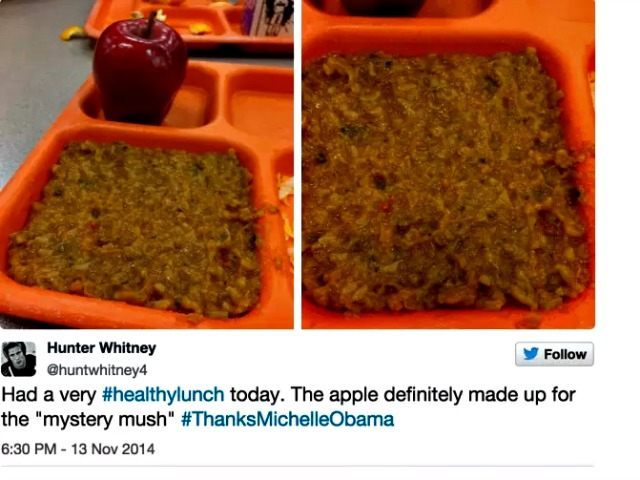 Michelle Obama's overreaching, nitpicky, and 'don't you have anything better to do with your time' lunch program was a disaster. It wasted food. The food it didn't waste was simply godawful disgusting. It cost way too much money, and it did absolutely nothing. And it pretty much existed just to give her something to do.
And it's gone. Trump doesn't waste time.
Fox News reported on the program's waste a while back. "Researchers at the University of Vermont found even though students added more fruits and vegetables to their plates, 'children consumed fewer [fruits and vegetables] and wasted more during the school year.'"
So, you gave kids more rules, and they didn't obey them? You. don't. say.
The fine folks over at Joe for America are positively jubilant. "It was just another example of liberals wanting to micromanage what goes on in the schools. The school lunch "ladies" have done a terrific job of cooking for school children for decades. The LAST thing they needed was for the great bureaucracy to interfere!"
But the best response of all comes from Texas, in an open letter to Michelle about her program:
"Lady… we've been raising bright, healthy, strappin' young men and women in Texas for nearly 200 years…and we don't need you, or anyone else coming to Texas and tellin' us how to raise our kids!"
Trump's no-nonsense governing, and his ability to quickly eliminate waste, fraud, and abuse, should tell us all one thing: from now on, only businessmen should be president. Career politicians are over. It's a wonder the Obamas have anything to do with their time at all, in fact. After all, they don't have an entire nation to tell what to do anymore.
Michelle's destroyed program didn't make the news much – the liberal media is preoccupied with idiot protestors and sob stories about families waiting a few more hours in an airport. But kids around the country are eating more, eating better, and finally feeling full.
Life is good.
Source: Joe for America
[button color="black" size="large" type="square_outlined" target="_blank" link="https://myrightamerica.com/iran-takes-revenge-trump/"]Next Article —->[/button]
[playbuzz-item url="//www.playbuzz.com/ygfgva10/should-michelle-obama-run-for-u-s-president"]