Once upon a time, the United States opposed Iran's nuclear program.
That all went away when Obama mysteriously lowered Iran's sanctions and gave the nation over $2 billion.
Now this rogue state is gaining power. They are becoming more and more hostile towards the U.S., Israel, and our European allies.
President Trump has declared Iran to be a major enemy of all free countries, especially those in the Middle East. He has urged Saudi Arabia and other nations to help the U.S. prevent Iran from endangering innocent lives.
Yet despite these urges, Iran continues their hostile actions. Recently they made it very clear they would not stop until they've reached their one, most disastrous goal.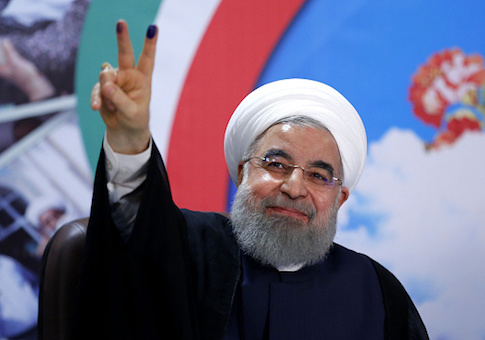 From Free Beacon:
A senior Iranian official declared on Tuesday that Iran will "never stop" developing advanced missile technology in violation of international accords barring such action, according to comments that came in reaction to President Donald Trump's strong rhetoric against Iran during a trip through the Middle East.
Mohammad Baqer Nobakht, a spokesman for the Iranian government, said that Iran's missile program—which the U.S. intelligence community suspects could be used to fire a nuclear-armed weapon—is non-negotiable and will not cease…
Iran maintains that its missile program is defensive in nature, despite mounting evidence that Tehran is building intercontinental ballistic missiles capable of carrying nuclear weapons. Iran remains about a year away from assembling a functional nuclear weapon, according to the U.S. intelligence community.
The Iranian Nuclear Deal was one of the worst decisions President Obama ever made. It will surely lead to nuclear weapons in the hands of Iran.
Despite their denial, it's obvious Iran is working hard at developing weapons. Even with the international community opposing them, they are pushing forward with their missile program.
Hmm, why could that be? Could it be because they want an arsenal to attack their enemies? The U.S. and NATO forces have ships throughout the region. Iran could use their missiles to decimate our men and women in service.
Not to mention attack Israel, Syria, Iraq, and Saudi Arabia. Or anyone else that dare oppose them.
Until the Iran Nuclear Deal is axed and new sanctions are put in place, Iran will continue to make such threats. What's better: new sanctions that get them upset or an all-out war in the Middle East?
Source: Free Beacon
[playbuzz-item item="48fac11f-c089-45f9-ad54-f94c333a172f" format="poll"]