The Arlington National Cemetery is one of the United States' most sacred places of burial.
It is reserved for our brave men and women who gave their lives for our country. It is a place where the heroes of our freedom are honored and remembered.
So, it comes as a particular shock to learn that it was the scene of a terrible crime.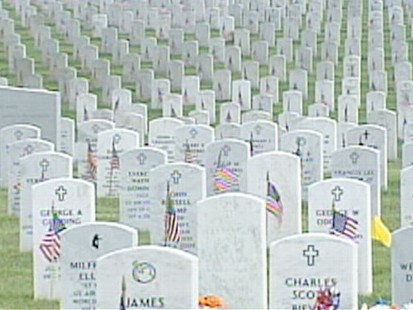 From Free Beacon:
The FBI is currently investigating an incident where a man allegedly made "illicit sexual contact with a minor female" on Memorial Day at the Arlington National Cemetery.
"The bureau is seeking information about the unidentified individual — who the FBI described as a Hispanic male believed to be between 50 and 60 years old — in connection with an incident that occurred in the crowd during the wreath laying ceremony," KTLA News reported.
The unnamed adult male allegedly "repeatedly inappropriately touched" the young girl while standing in the crowd at the ceremony.
The FBI said that the alleged incident took place around 11 AM ET and the man they are seeking had "short, spikey, grey and black hair," and wore a short-sleeved shirt and dark blue shorts at the time of the incident.
This took place on Memorial Day, when the leaders of our country gathered to honor our fallen heroes. A time of respect and dignity was tarnished by one disgusting and vile person.
The FBI is currently looking for information on the suspect. Such a person should be brought to justice and prosecuted for such an offense. Our children should feel safe in our nation, no matter where they are. But especially at a national place of remembrance.
Tips can be provided via 202-278-2000 or through their website.
Source: Free Beacon
[playbuzz-item item="1e963087-e32e-4919-9210-e4f888aaa251″ format="story"]