Ever since her grand appearance in 2008, Sarah Palin has been a beloved figure among conservatives.
But in recent years, she has rarely spoken. Although she has lent her support to political candidates, including the president, she has stayed relatively silent. It seems she has been focusing on her family and personal affairs.
However, a shocking event this past week has brought Palin back into the public spotlight. Because of it, she had to voice her concern.
From Breitbart:
Former Alaska Gov. Sarah Palin condemned comedian Kathy Griffin for photographing herself holding up President Donald Trump's severed head on Tuesday, saying Griffin is "sick."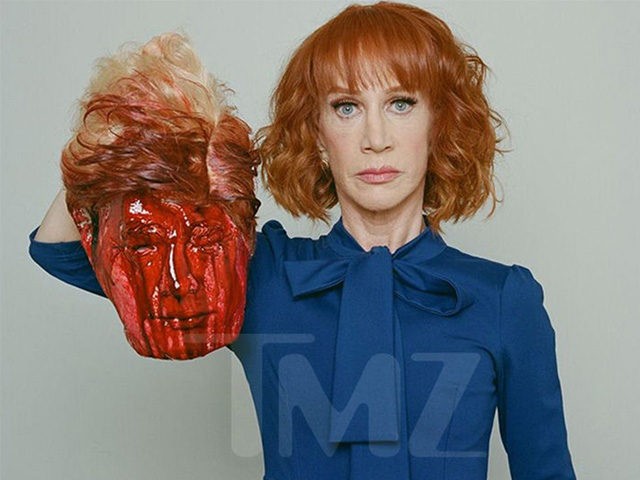 "No one should be shocked at the sick audacity of sick characters. Kathy is a hurting individual. She needs help," Palin told Breitbart News. "Can you imagine if the subject of such an outrageous visual was a liberal? Obviously, media would be unhinged and uncontained in response."
Palin was referencing the dishonest attack the liberal media made against her back in 2011.
After the attempted assassination of Arizona Democratic Rep. Gabrielle Giffords in 2011 in a shooting that left six dead, the Left launched a full-out assault on Palin, trying to blame her for "inspiring" the severely mentally-ill shooter's actions. 
A political action committee supporting Palin had released a Facebook graphic displaying crosshairs on congressional districts where Tea Party candidates could compete in the 2010 midterm elections.
Even though the map was completely unrelated to the shooting, the liberal media had no problem blaming Palin for the attack. Even Kathy Griffin attacked Palin during that time.
But now, not only is Griffin posing in graphic, violent imagery, it depicts the president's severed head covered in blood.
Talk about a double standard.
Imagine what that image could inspire among unstable, anti-Trump, activists? They already riot in the streets. Griffin is all but calling on leftists to attack our president. Yet the liberal media? Relatively silent.
Palin is absolutely right. And every American who supports our president must take a stand against this kind of vile hate.
Source: Breitbart