As we've seen with President Trump's cabinet picks, the Senate will be dragging out the confirmation process of Supreme Court nominee Neil Gorsuch.
Just imagine, Trump's cabinet will serve at best eight years in public office, and the democrats are still dragging their feet over some of them. 
Neil Gorsuch will be serving on the Supreme Court for the rest of his life. You can imagine the kind of fight these petty liberals will put up.
[playbuzz-item url="//www.playbuzz.com/patriotjournal10/is-the-left-too-far-gone"]
But they won't have too much recourse to reject him, as Neil Gorsuch is an incredibly accomplished lawyer and judge, who has a sterling record.
In the past he has been voted favorably by both republicans and democrats and has a reputation of upholding the law and Constitution.
Be that as it may, we will see some resistance from entrenched liberals. We've already heard some of their slanderous arguments against Gorsuch, twisting his past rulings and writings out of context to create controversy.
Even in yesterday's hearing much was said as it dragged on for such a long time. But, showing his true character and strength, Gorsuch endured it all, and impressed everyone with a simple act.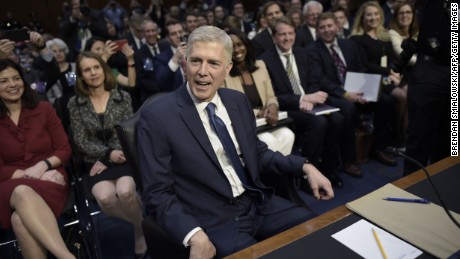 From IJR:
After three hours of listening to pontificating senators, it was finally Supreme Court nominee Neil Gorsuch's turn to say a few words at his confirmation hearing on Monday.
Gorsuch was sworn in "to tell the truth, the whole truth, and nothing but the truth," and after thanking his colleagues, friends, and the president, he said a few words about his wife:
"Mr. Chairman, I could not even attempt to do this without Louise, my wife of more than 20 years. The sacrifices she has made and her open and giving heart leave me in awe."
His voice caught a bit when he looked back at her and said:
"I love you so much."
That brought Louise Gorsuch out of her seat to embrace him.
It seems even with an illustrious career, and achieving the highest honor a judge can achieve, Neil Gorsuch still knows where his priorities lie.
This little act of love and support, while sitting before a U.S. Senate committee and countless cameras, reporters, and viewers, shows the integrity and devotion of both Neil and his wife.
It gives us a little glimpse into the man's values, as a husband, father, and yes judge.  And it should inspire confidence for both Americans and the Senate, that President Trump picked a fantastic person to become a Justice.
Source: IJR
[playbuzz-item url="//www.playbuzz.com/salonmedia/will-neil-gorsuch-be-confirmed-to-the-supreme-court"]