As it turns out, illegal immigration is worse than we thought.
That's no huge surprise given what we know about criminal aliens and their impact on our country. But thanks to the intentionally bad policing by the Obama administration, agencies like ICE have had a hard time doing their job.
President Obama dictated that our law enforcement released illegals they caught. He violated numerous laws and policies so that it would be easier for illegals to enter and stay in the United States.
And to this day, many liberal-controlled cities are protecting criminal aliens by not handing them over to federal agents. Even dangerous criminals are safe in these sanctuary cities.
Now more information has been released that reveals what a poor job ICE has done in the past. And American citizens won't be happy.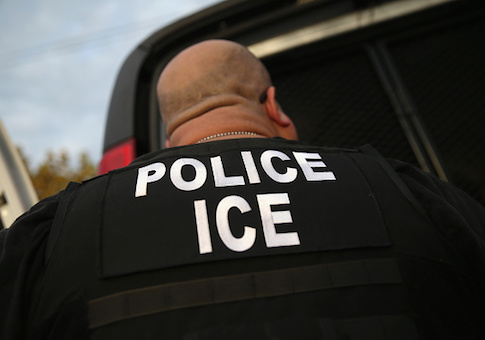 From Free Beacon:
Immigrations and Custom Enforcement cannot account for all visa overstays due to inefficiencies in the agency, according to a new report.
ICE arrested just 0.4 percent of visa overstays it could account for, according to an audit by the inspector general.
The agency has 27 different databases used to investigate and track immigrants who remain in the country past the deadline issued on their temporary visas. The lack of a cohesive system has "produced numerous inefficiencies," making ICE ineffective at catching visa overstays who may pose security risks, according to the audit.
Government agencies often suffer from terribly outdated and ineffective systems, but this takes the cake.
With only 0.4% of overstays being caught, it's basically saying that a person can come to the U.S., let their visa expire, and stay without punishment.
It's a loophole that allows people to live in America illegally.
We thought illegal immigration from Mexico was bad? This means that anyone, from any country, can get a temporary visa to enter legally and do nothing when it expires.
They have no reason to go home or renew their visa. They also have no reason to work for a Green Card or citizenship to stay lawfully.
"Department of Homeland Security IT systems did not effectively support ICE visa tracking operations," the inspector general said.
"ICE personnel responsible for investigating in-country visa overstays pieced together information from dozens of systems and databases, some of which were not integrated and did not electronically share information.
Despite previous efforts to improve information sharing, the DHS Chief Information Officer (CIO) did not provide the oversight and centralized management needed to address these issues."
Why do you think that was? Because the Obama administration was most likely allowing this to happen. It was yet another way they undermined our immigration laws to let people in illegally.
It doesn't take that much effort to modernize and improve a system. But it does require that our leadership does its job. It's clear that on every level, the Obama administration failed us. Immigration — legal and illegal — is in complete shambles.
The only solution is for ICE and the rest of the immigration enforcement of our government to drastically reform. Under President Trump, this kind of situation must not stand.
Our immigration agents must do their job — and remove those whose visas have expired. We can no longer allow this loophole to remain.
Who knows how much our nation has been harmed because of it?
Source: Free Beacon.
[playbuzz-item url="//www.playbuzz.com/patriotjournal10/do-you-support-donald-trump-s-plan-to-immediately-deport-all-criminal-aliens"]