For all of the concerns that pop up over how illegal immigration affects the United States as a whole, we have nowhere near the problems at hand as the folks over in Europe do.
In fact, we need to look no further than across the big old pond for what can happen when scores of immigrants are left unchecked.
The effects are chilling, and we're not just talking about an increased terror threat. Integrating folks into a society that they're not accustomed to dealing with can lead to some untenable situations.  
Mad World News passes along another disturbing incident that demonstrates that fact.
When a Swedish citizen received a knock at the door of his home in Gävle, he was greeted by 4 angry Eritrean migrants who demanded he move his white Volvo from its position in the street in front of his house.
Initially, the migrants demanded that frightened guests lower their eyes and not look at them before launching into an inane tirade, claiming that the car's position on the street "persecuted" him.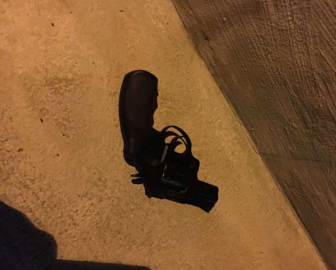 When the man refused to move his vehicle, one of the migrants pulled out a starting pistol and fired it directly into the man's thigh. Unfortunately for him, this only made their white victim angry.
Friar Tider reports that after shooting the unnamed white man in the leg, the injured victim took down the armed migrant and wrestled the gun away from him.
Incredibly, the injured Swede managed to fight off all 4 migrants before police arrived and arrested the 21-year-old Eritrean asylum seeker.
While it's certainly impressive that the victim stood up for himself and fended off the attackers, the fact of the matter is that he never should have had to deal with such nonsense in the first place.
The victim explained to police that the men had accused him of racism for not agreeing to move his car before finally brandishing the starting gun and shooting him in the leg.
"Do not look at me!" shouted one of the Africans at the first man. "Damn racist, we take as much we want! It's not your street!" the Africans screamed at a woman.
When the migrant, who has not been named, was arrested, he told police that he shot the man because he believed he, like all white people, is racist.
"He looked crazy at me. I have to protect myself. Everybody is racist!"
Violent incidents are not the sole domain of illegal immigrants. As we all know, it's quite the contrary.
However, the risks of such things taking place are only increased when gobs of people with outlandish beliefs are given free rein to come and go as they please.
For those that insist on portraying people that are concerned about the effects of immigration as being heartless and cold, a closer examination of the facts and a long look in the mirror are way overdue.  
Source: Mad World News
[playbuzz-item item="ac28008c-cd37-4655-a25d-0b26d08d6820″ format="poll"]