Recent months have been full of witch hunts going after the President and his staff.
Yet in reality, there are other figures who warrant investigation. Former leaders and staffers have been up to no good, in some cases criminal activity.
But where are their investigations? Why aren't they brought to justice? As it turns out, it just might happen.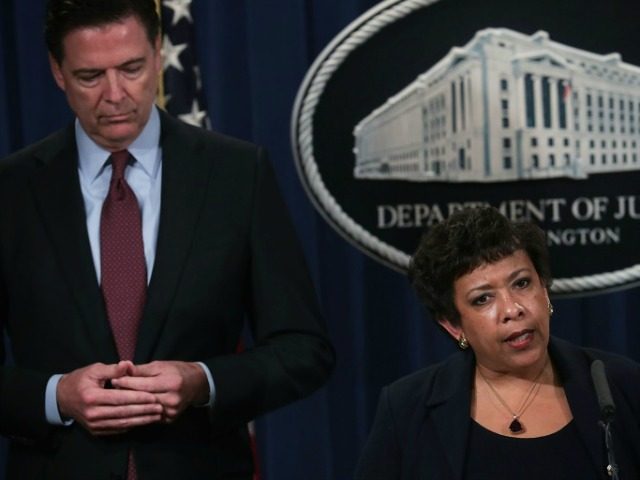 From Breitbart:
House conservatives will launch an effort to conduct an official House Judiciary Committee-led congressional investigation into former Attorney General Loretta Lynch and fired former FBI director James Comey, a notorious leaker, Breitbart News can confirm exclusively.
Reps. Matt Gaetz (R-FL), Andy Biggs (R-AZ), Mike Johnson (R-LA) and Jim Jordan (R-OH) have drafted an amendment that would compel government cooperation with a congressional probe into Lynch's and Comey's activities.
Specifically, the amendment—a draft of which was obtained by Breitbart News—would compel the production of documents and evidence regarding Lynch's order to Comey to "mislead the American people by stating he should refer to the investigation into the mishandling of classified data and use of an unauthorized email server by former Secretary of State Hillary Clinton as a 'matter,' rather than a criminal 'investigation.'"
The amendment specifically presses the Department of Justice to cooperate with the congressional investigation this would create, making it easier for Attorney General Jeff Sessions to probe these and the other matters laid out.
There has been numerous reports of Obama staffers doing plenty of underhanded things. Rice unmasked names and illegally leaked them to the press. Lynch tried to kill the investigation into Hillary Clinton's email server. And Comey leaked private documents to the public.
It's clear some crooked stuff was going on in the past administration. Yet nobody has been confronted or held accountable.
Meanwhile democrats pursue Russia collusion, with zero evidence to back it up.
It's high time the real criminals in government are brought to justice. It's time that Comey, Lynch, and everyone else had their feet held to the fire. Let's find out just what went on—and who's to blame.
Who knows? Maybe even Old Hillary will be brought to bear.
Source: Breitbart
[playbuzz-item item="67e0cce6-5c63-40f7-8e9d-6a9ce0c2df10″ format="poll"]