Since its founding in 1948, the nation of Israel has found a strong supporter in the United States.
America considers Israel, the only true democracy in the Middle East, a stalwart ally. We have united with them and shown them support for decades. In times of conflict and controversy, America has backed this nation against many others.
Many nations seem poised to dismantle Israel's sovereignty. But the U.S. has reaffirmed its commitment to our old ally.
In fact, President Trump has just done something for Israel that no other president has done in history.
This is big news.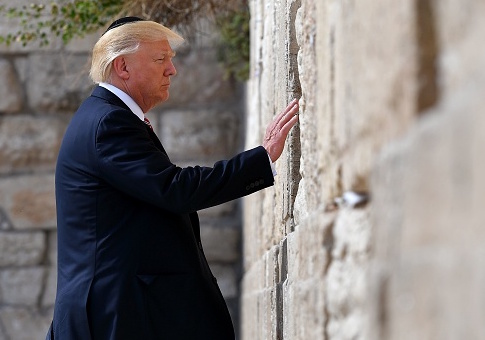 From Free Beacon:
The Trump administration declared the president is in "Jerusalem, Israel," on Monday for a series of meetings with Israeli officials, a proclamation that breaks with years of American policy refraining from stating that the city of Jerusalem is part of Israel…
Decades of U.S. policy has refrained from formally labeling Jerusalem as part of Israel due to concerns this could negatively impact the Middle East peace process, in which Palestinian leaders have staked a claim to the city as their future capital.
Ahead of a joint press conference with Israeli Prime Minister Benjamin Netanyahu, the White House, on its official website, provided a live stream of the event. Prior to its start, the White House included a frame stating, "President Trump gives remarks with Prime Minister Netanyahu." The location provided was "Jerusalem, Israel."
The statement appears to be part of an effort to normalize this language, which is widely backed by U.S. lawmakers and senior officials in the administration, sources said.
For Israelis, Jerusalem is their most important city. Yet for generations they've been denied this part of their homeland because of politics.
Palestinians consider Jerusalem their home. And many nations of the world refuse to acknowledge it as Israel's capital, because of fear of offending Palestine. Even American presidents have avoided the issue.
But not Trump! He has clearly declared his support for Israel by calling Jerusalem a part of the nation. That mean's U.S. support for Israel making it their official capital.
What will happen next? Backlash from Palestinians and critics for sure. But maybe the U.S. embassy will finally move to Jerusalem.
It's only a matter of time before Israel gains complete control of the city.
Source: Free Beacon