Unchecked migration of refugees has been wreaking havoc around the world.
Millions of people are flooding nations that are just not equipped for them. It has created tension, rampant crime, even terrorist attacks.
Sensible leaders will see these obvious problems and put a halt on welcoming more migrants. But we're not talking about sensible leaders.
From Breitbart:
The United Nations Refugee Agency (UNHCR) has said there are at least 380,000 people that are seeking refuge in Europe every year, and the European Union should work to take in more migrants.
Currently, the EU is increasing the number of asylum seekers it takes in through legal channels at a rate of 20,000 per year, but the UNHCR said the increase is not enough.
The group has called for a double-digit increase in numbers and said the new proposal to accept migrants in Africa could facilitate a growth in numbers, Austrian newspaper Kurier reports…
Not everyone is happy with the new plan to have asylum seekers in Africa make their claims in Africa before coming to Europe.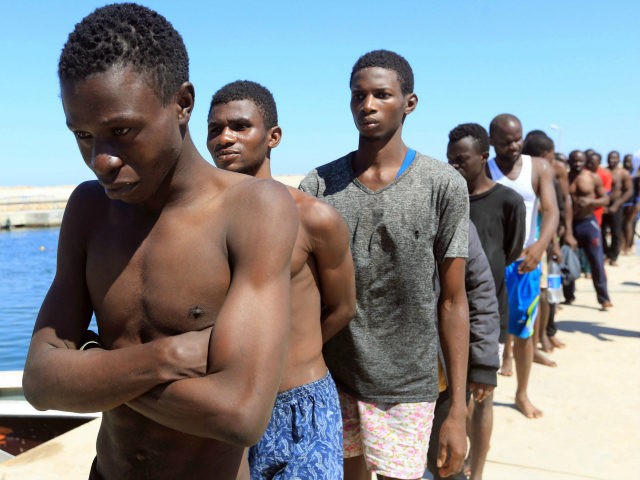 Pro-migrant activist group ProAsyl slammed the policy and German Chancellor Angela Merkel saying: "It is inconceivable that the Chancellor has betrayed European values in such a way and then talked nicely pretending that it does not exist."
The plan to have migrant reception areas in North Africa or on islands in the Mediterranean is not a new idea having initially been put forward on numerous occasions by politicians like Austrian Foreign Minister Sebastian Kurz.
Earlier this week, the German government signed a new agreement with the Egyptians to open an asylum reception centre in the North African country. The French have also been in discussions with Chad and Niger to open similar reception facilities.
I wonder where they think they will be able to put these hundreds of thousands of migrants? Europe does not have unlimited land and space. There are already many citizens living throughout these countries. Are they expected to leave, in order to make room for all these newcomers?
The U.N. likes to make these pronouncements. Yet they never back them up with sensible explanations on how it will work. Where will these migrants live? How will they support themselves? Will they acclimate to their new homes? Who is going to pay for all this?
Meanwhile parts of Europe burn as hostile migrants turn on their hosts.
Until the EU and UN stop this policy, Europe will be destroyed. It's obvious they are doing this for nefarious purposes, being pulled by the strings of globalist elites. Only when the people of Europe vote these hacks out of office will there be peace.
Source: Breitbart
[playbuzz-item item="ac28008c-cd37-4655-a25d-0b26d08d6820″ format="poll"]