Despite the ongoing war against the American family, men and women continue to forge ahead with their love.
Young couples are getting married everyday and starting their own nuclear families. They are determined to share their love with new lives, spreading their values and faith to the next generation.
The process of welcoming a new life into the world is filled with exciting milestones. An entire extended family waits with baited breath to learn news each day.
[playbuzz-item url="//www.playbuzz.com/popbuzz10/are-you-a-country-must-fan-really"]
How is the child progressing? Is he or she developing well in the womb? When is the big day?
Perhaps ones of the biggest moments is the revelation of the child's gender. Many couples like to wait until the child is born to find out, but many want to know earlier and share that news with the rest of the family.
One couple in particular found an amazing way to share it with not just their friends and relatives, but the entire country!
From Country Rebel:
America's favorite power couple kicked off their highly anticipated 2017 Soul2Soul World Tour in the best way possible!
Tim McGraw and Faith Hill thrilled fans attending their packed concert at New Orleans' premiere arena, Smoothie King Center, April 8th after spotting a couple in the audience holding up a sign.
The adoring fans asked the country singers if they could assist them in finding out whether they were pregnant with a boy or a girl. The Nashville sweethearts happily obliged and McGraw walked up to the front row where the couple stood and retrieved an envelope from them.
"And the Oscar goes to… It says, 'La La Land!'" joked McGraw before Hill snatched the envelope from him.
"It's a boy!" shouted Hill.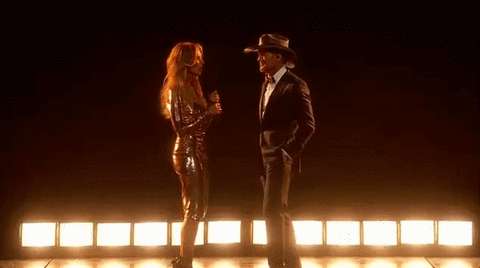 It's pretty impressive that this couple was able to grab the attention of these two country music stars. You have to imagine that there are numerous people with banners and signs at their concert; everyone is shouting at them as they appear on stage.
The fact that Tim and Faith singled out this couple to share with them this special moment is a testament to their own love of family.
And imagine the surprise of all of their friends and family to learn that their new child will be a boy — from one of their favorite music stars.
That story will be told by their family for years to come. The little tyke will be hearing about it from the moment he is born, throughout the rest of his life. Even the video will be a special keepsake for the family.
Next time you have a special announcement to make, try to find a way that is equally memorable!
Source: Country Rebel