With the sheer and overwhelming number of scandals that Hillary Clinton brought upon herself during the election, it's easy for all of us to get Scandal Fatigue.
Fact is, though, if we want change, we can't get tired of pointing it out when we see it.
With that in mind, another Obama scandal surfaced today, and it's almost too absurd to be true. And this time, it's not just letting illegals vote, or letting terrorists in the country.
It's defrauding (his home country of) Kenya, by selling expensive weapons.
Arms sales, Kenya, and millions of dollars in fraudulent profit? Well, this just might be interesting enough to overcome Scandal Fatigue.
[playbuzz-item url="//www.playbuzz.com/elvinb10/is-barack-obama-anti-american"]
From Breitbart News:
A group of lawmakers is planning to request a congressional investigation of a $418 million U.S. weapons sale to Kenya approved by the Obama administration on its last day in office.
The sale, approved by the State Department and privately notified to Congress on January 19, would allow Kenya to buy 14 weaponized crop-duster-like planes — including two trainer planes and services, for missions against terrorist group al-Shabaab.
A handful of lawmakers, led by Rep. Ted Budd (R-NC), are questioning why the contract to produce the planes was awarded to major defense firm L3 Technologies — which has never produced such a plane — while a smaller, disabled veteran-owned company in North Carolina that already make those planes at a lower cost was not considered.
'It looks like politics,' Budd said in a phone interview with Breitbart News. 'Why are they sending it to someone that's produced zero, for twice the price? This is inappropriate.'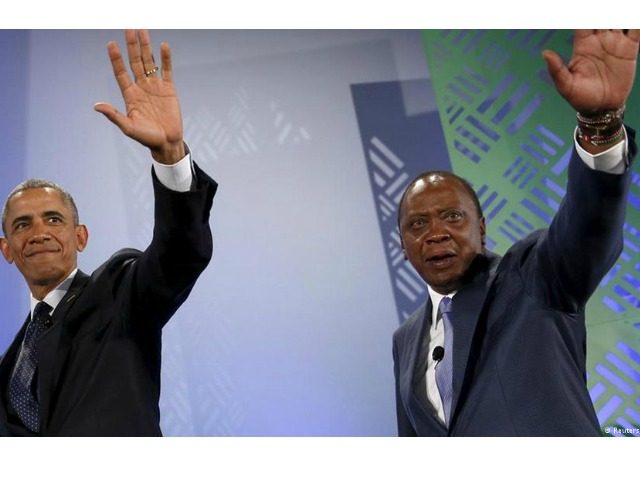 Breitbart's reporting leaves little doubt as to what exactly is going on: Obama was favoring a specific contractor to fill the order, one that cost nearly twice as much.
Showing favoritism in government contracts is a serious breach of ethics. It's just the kind that Trump pledged to eliminate when he declared war on lobbyists and career politicians.
But the bigger story here is how Obama's actions defraud the people of Kenya themselves, and not just American democracy.
And Kenyans, take note, aren't happy about that. As it turns out, paying an additional 200 million for a product isn't something they appreciate.
We could have bought 5 of these Bell Boeing V-22 Ospreys at the $418 million expenditure #KDFWeaponsScam pic.twitter.com/2XXdS9g7VT

— The Muthoka® (@MuthokaTito) February 17, 2017
And it's Kenya…it's not like they have the extra money just lying around.
It's not every day that a scandal involves defrauding the poor, ruining a developing African country, and undermining American democracy all at once.
But, let's face it – Obama was an exceptional president. Exceptionally bad.
Source: Breitbart News
[playbuzz-item url="//www.playbuzz.com/patriotjournal10/should-obama-be-investigated-for-sabotaging-donald-trump"]