The holiday season is here, and we all have the monstrous to-do lists that go hand-in-hand with that time of the year.
While things are definitely more hectic as the year comes to a close, it's also a fantastic time to reflect on things and place them in the proper perspective.
There's plenty of things for all of us to be thankful for, and focusing on them can insure that you and your loved ones have a joyous holiday season.
Unfortunately, there are far too many folks that don't subscribe to that line of thinking. As such, they still feel the need to make anything and everything into a partisan talking point.
Can't we just have a few weeks of freedom from the rhetoric, sniping, and narrative-building?
Apparently not, and we have plenty of examples to prove that.
Breitbart shares yet another one.
A bishop in the north of Italy has sharply criticized the placement of the Virgin Mary and the Baby Jesus in a migrant dinghy rather than a traditional manger in the town Nativity scene.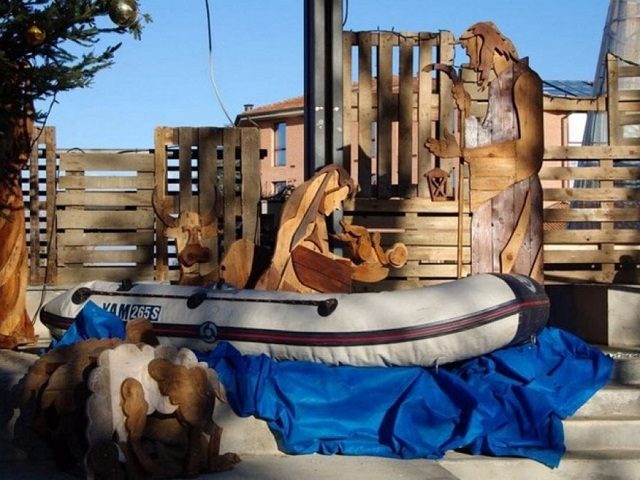 The mayor of the Italian town of Castenaso, Stefano Sermenghi, decided to place a small rubber boat at the center of the manger scene in order to draw attention to the plight of migrants crossing the Mediterranean Sea into Europe.
In the crèche scene adorning the town square, the wooden figure of the Virgin Mary has been placed on board the rubber raft with the infant Jesus in her arms.
Why on Earth would the mayor feel the need to make a partisan talking point with something as sacred as the nativity scene?
The liberal leader has explained himself, and he exposed himself as someone that is incapable of knowing when to tone down the drama while doing so. 
"We have been setting up a Nativity scene for the last fifteen years," the mayor said, "and this time we wanted to underscore the problem related to the acceptance of migrants."
An emeritus bishop of nearby Bologna, Ernesto Vecchi, criticized the move and told the Italian daily Il Resto del Carlino that the addition of the migrant dinghy to the Nativity scene was "out of place."
Out of place is certainly one way to describe it.
Does this mayor really think that people are worried about the acceptance of migrants when they cast their gaze on a nativity scene?
Maybe he does and maybe he doesn't, but he's going to be damn sure that people keep talking about it regardless.
We'll keep our fingers crossed that he receives nothing more than a stocking full of coal on Christmas morning.
Source: Breitbart