Through the years, there have been all sorts of reports outlining the wasteful and egregious spending of members of Congress.
For the most part, a blind eye is turned to these abuses of power. Perhaps this story will lead us to having a laser-like focus placed on the abuses instead.
Rep. John Conyers (D-MI) is the subject of the report, and not only has he used taxpayer dollars for something outrageous, it also turns out that he may be a very bad boy.
Unsurprisingly, the two revelations are linked together.
The Daily Caller shares the scoop.
The congressman, Michigan Rep. John Conyers, is described as a serial sexual harasser who would prey on his female staffers in sworn affidavits signed by four of his former staffers.
BuzzFeed News first reported the bombshell allegations and accompanying settlement after right-wing blogger Mike Cernovich provided the website with the documents.
One former female employee filed a complaint with the Congressional Office Of Compliance in 2014, alleging that she was fired for rebuffing Conyers' sexual advances.
It was that employee who eventually received a $27,111.75 settlement in 2015, in exchange for a confidentiality agreement. The congressman did not admit to fault as part of the settlement agreement.
So far, this is the only complaint against Conyers that appears to have led to a payoff.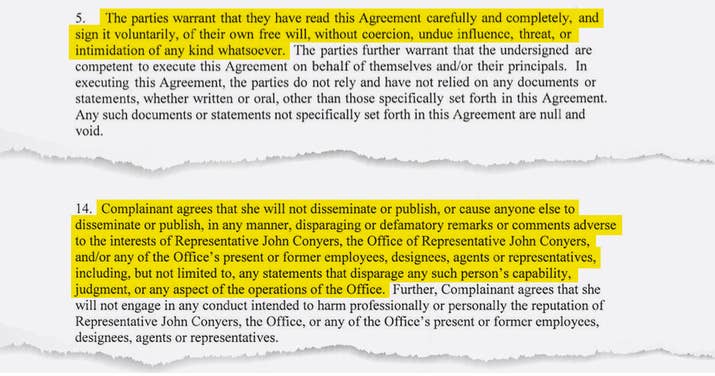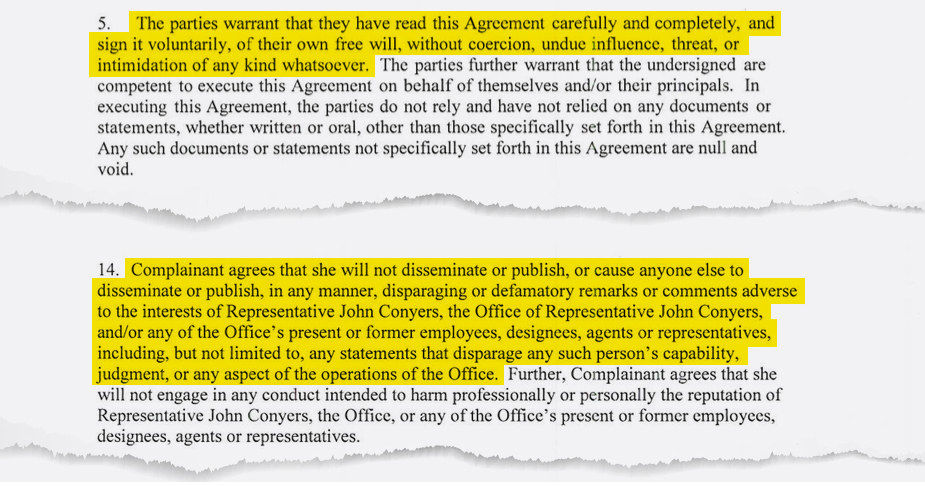 However, the affidavits include other allegations of unseemly behavior on the part of the leading Democrat.
He also allegedly abused taxpayer funds to shuttle in women with whom he had sexual relationships.
"One of my duties while working for Rep. Conyers was to keep a list of women that I assumed he was having affairs with and call them at his request and, if necessary, have them flown in using Congressional resources," one affidavit states.
Another staffer told BuzzFeed that Conyers, who is the longest-serving congressman, used taxpayer funds to fly women into see him.
The bombshell allegations come just days after it was revealed that the Congressional Office Of Compliance spent $17 million of taxpayer funding on harassment settlements, including for sexual harassment.

https://twitter.com/JenniferShutt/status/931279656027873282?ref_src=twsrc%5Etfw&ref_url=http%3A%2F%2Fdailycaller.com%2F2017%2F11%2F16%2Fcongressional-office-of-compliance-releases-breakdown-of-harassment-settlements%2F
This story is coming to light at a perfect time, and we don't consider that to be anything remotely resembling a coincidence.
Since the Harvey Weinstein scandal broke, there seem to be new allegations surfacing every day regarding a man in a position of power that engaged in ridiculous behavior.
After the Weinstein scandal hit the news cycle, it was theorized that it amounted to a tipping point in the 'wink wink' culture of the entertainment industry. The proverbial jig was said to be up on the men that preyed on women that were merely attempting to advance their own careers.
The jig may also be up on Capitol Hill, and we would imagine there's some gentlemen that have suffered through some sleepless nights as a result.
Each and every one of them need to be exposed. Period. There's no place for this behavior in any industry, but we have a right to expect a whole lot more from our elected officials.  
At a minimum, a full accounting needs to be provided for the public on the $17 million that was used to settle harassment claims – including the names of the elected officials behind the outrageous behavior.
Source: Daily Caller