In some of the best news to come out of the Trump presidency yet, liberals are buying more guns.
No, really. You read that correctly.
The average, typical snowflake liberal will never touch a firearm, never know how to properly defend his family, and both vote and lobby to reduce his fellow citizens' readiness to mount a defense against tyranny. It's in his nature. But, thankfully, there are exceptions. And Trump is bringing them out of the woodwork.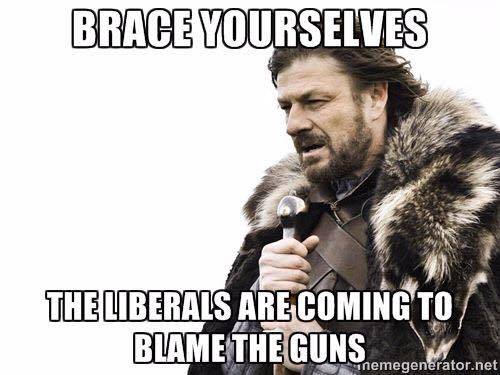 They're not just buying guns, mind you. This is where it gets weird – they're preppers. They're buying everything they need to survive – weapons, food, land, and bunkers. And they're all Leftist liberals. A way of investing that was previously conservative and Republican is now being taken over by progressives.
There's a downside, then – all the liberals buying guns are doing so because they're afraid of a Trump administration. But the upside? They're still buying guns!
Vocativ reports: "With Trump now days away from assuming the White House, Waugh's preparing for the worst. He's made 'bug-out bags' stuffed with ammo, energy bars, and assorted survival gear for his wife and their three cats. He's begun stowing water and browsing real estate listings in Gunnison County, Colorado, which he's determined to be a 'liberal safe-haven.' Last month, Waugh added a 9mm handgun to his arsenal."
(That last sentence is easily my favorite – hopefully, Waugh knows a conservative who can show him how to use it. But more power to him, anyway.)
It's difficult to know who to root for in this situation. On the one hand, the fear and conspiracy theories that rose to power as a result of mainstream media bias, fake news, and PC culture have obviously brainwashed a whole group of gullible Democrats into thinking the end of the world is near. On the other hand, the more exposure the Left gets to firearm culture, hard work, and the outdoors, the better – Trump's presidency might actually make Republicans of these men and women.
Assuming, of course, that things take a turn for the worse. But that's not likely to happen, given the quick return of hundreds of thousands of jobs, or the peace agreements already being hammered out with war-torn nations. The good news has drained the Prepper Movement of many conservatives, and it's caused more than a little despair. "'Everyone is feeling so good about things, very few people still seem interested in prepping for hard times ahead,' [author Michael Snyder] wrote… 'It is almost as if the apocalypse has been canceled and the future history of the U.S. has been rewritten with a much happier ending.'"
Couldn't have put it better myself.
Source: Vocativ