The world might be focused on the dangers of ISIS and North Korea, but other threats are out there.
The red giant that is China has not been sleeping. As we give them more and more of our cash through manufacturing, they've been arming up.
But just how much military might have they amassed? It might shock you.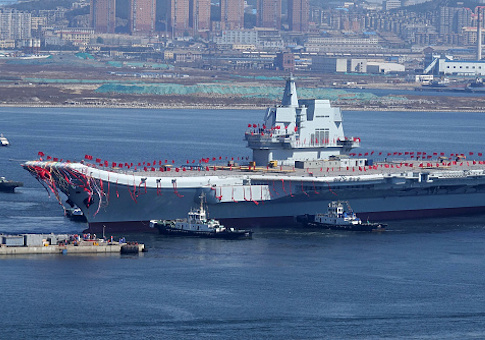 From Free Beacon:
The large-scale buildup of China's naval forces is the most visible part of a major rearmament campaign that has been under way for more than a decade.
But Chinese development of modern and increasingly quiet submarines poses one of the more serious strategic challenges for the United States and other nations concerned about Beijing's growing hegemony in Asia.
The increasing size of the People's Liberation Army Navy fleet of surface vessels captures most international attention, based on the sheer numbers and advanced weapons on an array of new warships.
Most notable among them is a refurbished Soviet-era aircraft carrier – the Liaoning, which was the first of its kind commissioned into the PLA Navy in 2012 – and development of its first indigenous ski-jump carrier, a vessel with a sloped flight deck.
China might be a fair-weathered ally of the United States. But that doesn't mean we trust them.
For now, they are an economic partner, but China is still a Communist regime. Their political and global goals are clearly not in line with democratic nations like the U.S. and others in the West.
China has frequently been an adversary in regards to waterways in the Pacific. They want to control major avenues in and out of Asia, avenues that South Korea, Japan, and even the U.S. rely upon.
It's no doubt that China is arming up its navy just for this purpose. They want a fighting force that can push other interests out of the Pacific, so they can establish a monopoly in these vital waterways.
But their sights might be set higher. Their fleet might be poised to take control of larger regions. Who knows? We might be seeing Chinese naval ships pop up in the most unlikely of places.
Source: Free Beacon