With President Trump in office, you better believe foreign relations will be different.
Trump is an advocate for the American people. That means he will put them first when negotiating trade deals. Already he's killed the TPP, a deal that would have plundered American jobs. He has promised to renegotiate NAFTA with Mexico and Canada, in order to protect American interests.
When working with other countries, Trump is no pushover (unlike someone else). His strong skills as a negotiator and businessman mean that other nations have to walk a fine line if they want to get along.
We've yet to see how he will deal directly with such nations as Russia, France, Sweden, or Iran. Many countries that have played fast and loose in recent years will come to bare before President Trump.
Already we've seen many heads of state work hard to please our new Commander in Chief.
Yet there was one leader that had no problem lying straight to the President's face. And a lie so heinous, we know it will carry no water.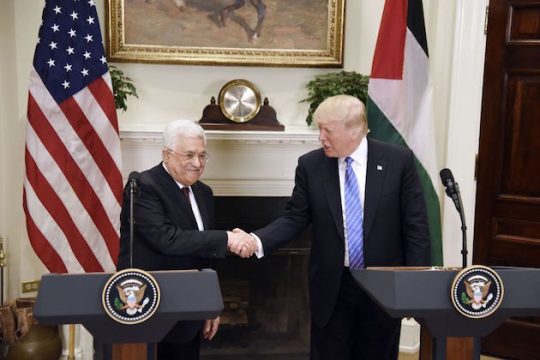 From Free Beacon:
There was only one remarkable moment in the otherwise formulaic remarks to the press Wednesday by President Trump and Palestinian Authority President Mahmoud Abbas: a claim by Abbas so audacious and dishonest that he may have damaged his credibility with the president:
"Mr. President, I affirm to you that we are raising our youth, our children and grandchildren, in a culture of peace…"
Abbas's lie is easy to debunk. All that's needed is a visit to Palestinian Media Watch, a website that documents the glorification of terror and bloodshed in official Palestinian media and by Abbas's Fatah Party, the PA, and the PLO—supposedly, we are told over and over again by western journalists, the moderate wing of the Palestinians.
Palestine has been an ongoing threat to the democratic nation of Israel. For decades U.S. presidents have worked to reach an agreement between the two groups. They have failed, largely thanks to Palestine's commitment to killing Israelis.
The website mentioned above documents many times Palestine has glorified violence against Jews. It is certainly teaching their children to want to kill.
In the final two weeks of April alone… the PA and Fatah have:
Held an event honoring a suicide bomber;
Described terrorists who murdered Israeli civilians as "symbols of our legitimate national struggle and the conscience of the Palestinian people";
Promoted the dangerously false charge that Israel is threatening Islamic holy sites ("Judaization attacks" and "invasions of the Al-Aqsa Mosque");
Honored a terrorist who shot six Israelis to death at a bat mitzvah in 2002;
Referred to Israel repeatedly, on official PA TV news, in PA newspapers and social media, and by the PA's Grand Mufti, as "the areas occupied since 1948";
Held a rally of schoolchildren glorifying terrorists imprisoned in Israeli jails;
Incited violence by claiming that "hundreds of extremist settlers" were "invading and desecrating" the Al-Aqsa Mosque;
Held a rally at a high school celebrating a terrorist who murdered an Israeli teenager.
And many more. It's clear that not only is Palestine aggressively against the existence of Israel, but their media and schools are teaching their kids to hate their neighbors.
That's not a culture of peace by any stretch of the imagination. And Trump is not fooled. On numerous occasions during the campaign he's railed against Palestine's violent culture.
"In Palestinian textbooks and mosques, you've got a culture of hatred that has been fomenting there for years. And if we want to achieve peace, they've got to go out and they've got to start this educational process. They have to end education of hatred."
For Abbas to blatantly lie to the President's face is a joke. That kind of political deception may have worked on Obama, but he's not fooling Trump. Before any kind of deals or talks are discussed, Palestine is going to have to reform the way they treat Israel.
Unless they end their culture of hate, they won't be getting far with this President.
Source: Free Beacon