Trump has had an interesting mix of wins and losses since becoming president – but this win is by far one of the biggest.
If you've kept up with politics in the last five months, you know this: Donald Trump has faced unprecedented opposition from liberal Dems, all while he was trying to fix the country. It's led to a mixed bag of victories.
Travel ban? Loss, loss, and then win. Fixing the VA? Win. Health care? So far, a loss. And we can thank Democrats for all those losses.
But today's big win? Defense spending. Because Congress is ready to approve a budget that's exactly what Trump asked for.
(I lied. It's more than what Trump asked for.)
The Conservative Tribune reports:
President Donald Trump has repeatedly vowed to rebuild our nation's military after years of budget caps, spending cuts and other constraints that have left our fighting force weaker than it should be, and the House of Representatives just did its part to help fulfill the president's promise.
The House just passed its version of the 2018 National Defense Authorization Act with an overwhelming vote of 344 to 81.
The House bill calls for a total of $696 billion for the defense budget, well over the $603 billion requested in Trump's proposed budget and way more than the capped $549 billion allowed under the Obama administration's sequester, otherwise known as the 2011 Budget Control Act.
I'm at a loss to describe just how big a win this is.
Normally, politics requires compromise – you tell me what you need, I'll tell you what I want to give you, and we'll meet somewhere in the middle. Businessmen know this.
But this bill is different. It's 'you tell me what you need, I'll tell you what I want to give you, and it will be several billion dollars over what you say you need.'
And all that extra money? More troops. And higher pay for those troops.
And no more feeble military presences in countries that hate us, and tell us so.
Now, the bill isn't yet passed. It still needs to go through the Senate.
But there's one great thing about that Senate bill – it asks for even more money than the House bill. Which asks for even more money than Trump's first proposal.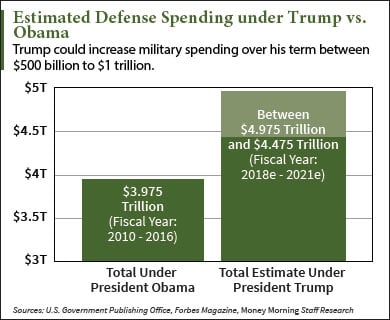 I'll put this one in the Trump 'Win' column.
Source: Conservative Tribune